Timely and professional appraisal reports utilizing advanced digital technology. Transferees and local buyers will be interested in the content of this site which includes an immediate source of information on the home buying/selling or relocation process. A transaction as large as a new or a "resale" house deserves the intervention of an independent, disinterested, third party to ask the appropriate questions, investigate the data, and analyze the buyer's decision before it is too late. Learn the value of a Residential Real Estate Appraiser. A seasoned appraiser observes the residential market on a daily basis from the buyer's and seller's perspective. Good advice more than pays for the related fees. Well-informed buyers buy good properties.


We have established ourselves as residential experts in our real estate market and have close relationships with numerous local and national clients. Our appraisers average over 25 years experience per appraiser. We appreciate the need for timely reports, understand that critical decisions are dependent upon our appraisals, and our clients are assured of receiving quality appraisal reports.
The following articles by Alvin "Chip" Wagner III, SRA, ASA, IFA, SCRP (RAC Member) were published in issues of Mobility Magazine, the magazine of the Worldwide Employee Relocation Council.
The Wagner Difference
- View the reasons why A. L. Wagner Appraisal Group is one of the premier relocation appraisal companies in the country.
Does a Relocation Appraisal Differ From Other Types of Appraisals?
- this article was published in the Fall 1990 issue of the "The Real Estate Appraiser & Analyst," published by the former Society of Real Estate Appraisers. This article will help the transferee understand the difference between a relocation appraisal and other types of appraisals, such as a bank appraisal.
Relocation Appraisers and Consultants Web Page
- this is a comprehensive web page for appraisers specializing in relocation - nationwide. Visit RAC's library of articles found at
https://rac.net/publications/
or find a seasoned appraiser in your new location for a destination appraisal or other valuable consultation at
https://rac.net/directory-2/

links updated
Worldwide ERC
- Often referred to by it's original name the Employee Relocation Council, this is a comprehensive web page is for the trade industry. ERC is a nonprofit professional membership organization addressing workforce transition issues and the effective relocation of employees worldwide. ERC's current membership includes corporations and government and military agencies that relocate their employees, as well as approximately 15,000 individuals and companies from the relocation industry including real estate appraisers and brokers, personal counseling and consulting services, home inspection companies, household goods movers, mortgage services, national home purchase firms, and a variety of other relocation-related services. There is a wealth of information on this page, and a library of resources and published articles is found at
https://www.worldwideerc.org/search?q=appraisal

links updated
ERC's TrendSpotting - Exploring workforce and mobility trends
Appearing in
MOBILITY Magazine, July 2001
"Eight percent of organizations with home purchase programs report having had transferees with a mold problem in their home. The majority (82 percent) of companies are addressing the mold issue on a case-by-case basis, while nearly one-fifth (18 percent) address it in formal policy. Over three-fourths (77 percent) of organizations having experienced a mold problem continue to allow the infested house to be eligible for the home purchase program, with the majority (83 percent) of these companies requiring the employee to pay to have the house remediated."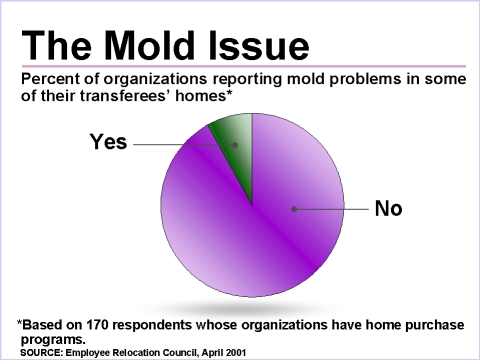 Appearing in MOBILITY Magazine, July 2000